It is estimated that about 5 per cent of population in India is disabled. About 75 per cent of them live in rural areas without access to basic rehabilitation and appropriate services. Social Action for Child Rehabilitation Emancipation and Development ( SACRED ), a voluntary organization established in 1994 caters to the needs of disabled persons in the rural areas.
SACRED believes that development can be achieved only throught the engagement of persons with disability in their own development process. Development focuses on empowering persons with disability to claim their rights to opportunities and services. SACRED believes in enabling people to realize their right to participate and to access information relating to decisions that affect their lives. it also believes in building inclusive societies, based on equality and non-discrimination and by promoting human right of persons with disability, families and communities.
ITS COVERAGE:

Sacred has expanded its program intervention to 397 villages spread across 12 Revenue Mandals comprised of 11 in kurnool District and 01 Anantapur districts. As many as 3596 persons with disability (PWDs) comprised of 2073 male and 1523 female who are organized into 342 SHGs constitute its target group which receives appropriate input and services covering socio - economic, medical and physical rehabilitation fields.
FUNCTIONAL INDEPENDENCE:
28 parents meetings were organized for parents of 1245 children with disabilities specially focusing on therapeutic interventions. Due to regular training and follow gradual yet tangible improvement is seen concerning activity daily living skills and speech in case of 481 children. As many as 2350 individual files are maintained and they are being updated based upon the changes noticed in follow up visits. Documented information is shared with parents with a view to enhancing their accountability in the rehabilitation of their children. Parents are also being given positive feedback acknowledging their interest and efforts in attending training programs and following the instructions strictly while doing need based therapy to their children. 28 severely disabled persons and also adolescent disabled persons were provided sanitation facility and this initiative has really helped them a lot.
243 mentally ill persons were identified out of which 191 were referred to specialist doctors for counseling and medical treatment. It is observed that 186 are regularly taking medicine and are responding to treatment. They are able to extend good cooperation and support to their family members who are also quite happy to see the changes which they had not anticipated before. 152 mentally ill persons who showed significant improvement after medication and counseling are doing their livelihood activities which they were doing prior to becoming mentally ill. They are taking part in all the auspicious functions and are sharing the responsibilities in their family bringing happiness to their family members.
By availing the services of Spanish Orthopedic doctors Sacred partnership with RDT had conducted 4 screening camps covering 124 persons and of them 18 requiring surgical intervention were operated at RDT hospital located at Bhathalapalli. It contributed for their improved mobility and reduced dependence on their parents.
12 children with hairelip problem were referred to GSR Hospital in Hyderabad and they were operated. All of them are undergoing speech therapy and they are able to speak a few words and creating few sounds. This positive change in their children contributed for sustaining the motivation of both children and parents. With the help of Ortho Workshop at THUGGALI as well as from RDT and SATHYA SAI Trust and NIHH -Hyderabad. 415 physically challenged of hearing improved persons were provided mobility aids and appliances including hearing aids. This has enhanced their self - confidence and some of them are pursuing their education, vocational / skills training activities and doing various jobs which enabled them to live a dignified life.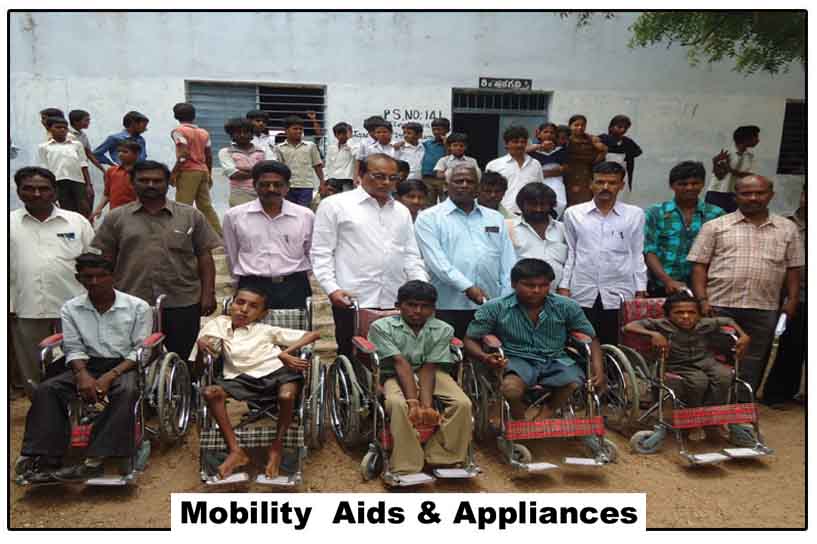 "Parents are convinced of the changes which they had noticed in their children and they are more pleased when others including their relatives and friends appreciate such changes. These appropriate mobility aids and appliances have created such an impact which enabled PWDs to carry out Activity Daily Living Skills to the extent possible apart from carrying out their livelihood activities daily routines. This holds key to their identity and their comparatively reduced dependency on others"
SACRED is a Registered society, No.344/1994. It is also registered under the FCRA No. 010120157 and 12A of Income tax Act